The Cat Lady begins and ends with suicide. Video games have continued to mature as a storytelling medium over the years. We have seen an increasing number of titles sincerely grapple with the tougher aspects of the human experience. The Cat Lady, released in 2012, is a game with depression and suicide at the core of its narrative. The player takes part in a story whose characters struggle with their depressive demons, stepping into the shoes of a woman who is healing from her own depressive and suicidal experiences.
You play as Susan Ashworth. The game opens with you committing suicide. You appear in some sort of afterlife. Meeting an entity who refers to herself as the Queen of Maggots, she tells you she is sending you back to kill five people, who she refers to as Parasites. She is also sending you back as an immortal.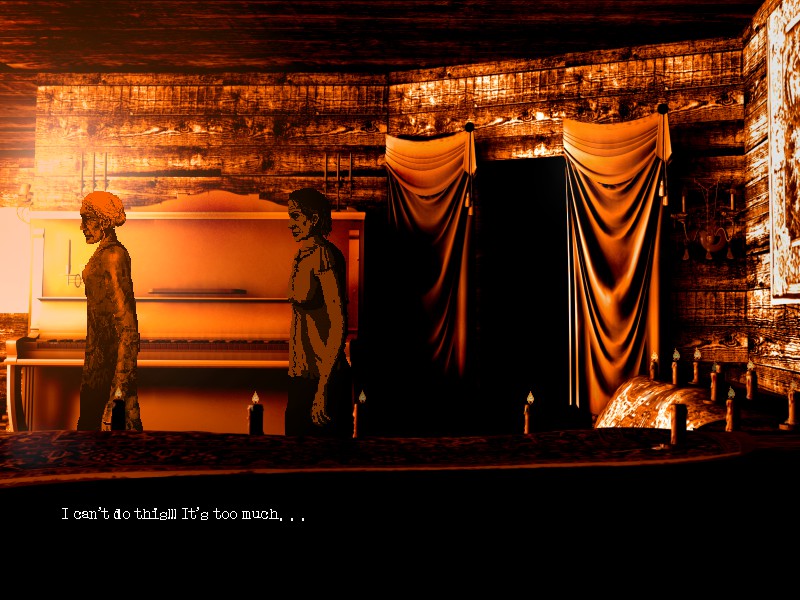 After your exchange with the Queen of Maggots you are sent back to the living world and you wake up in the hospital. Working to get out of the hospital you face off against the first Parasite, a deranged doctor that tortures people for artistic pleasure. Returning home you are greeted by a young woman, Mitzi, who wants to become your roommate. As you continue to play out the story, it is revealed Susan used to be married and had a daughter. Her daughter died and her husband drank himself to death. It is revealed that Mitzi is dying from cancer and is tracking down someone called The Eye of Adam. The Eye of Adam convinced Mitzi's boyfriend to commit suicide. And Mitzi wants to confront him for her own closure. Susan agrees to help. In your quest to hunt down The Eye of Adam you confront the remaining Parasites until you are face to face with the last one, The Eye of Adam. The game can end a few different ways depending on your choices.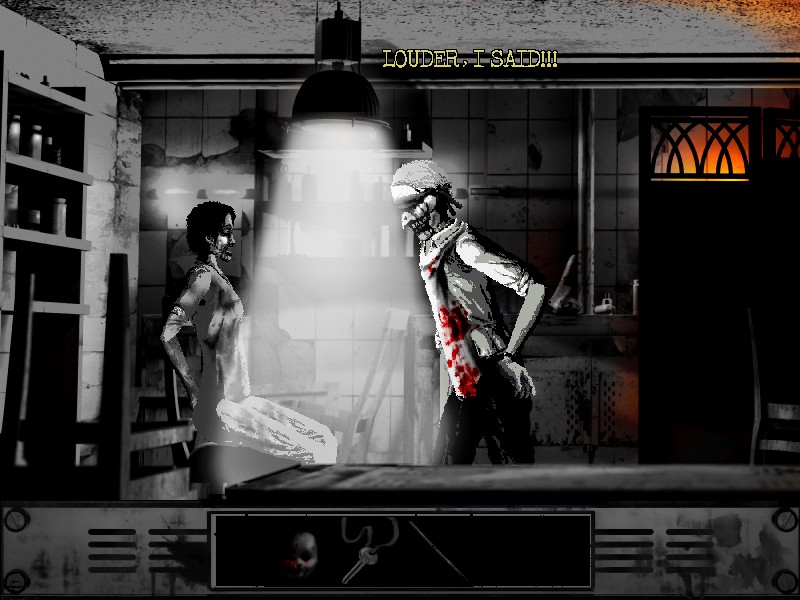 One of the interesting things about The Cat Lady is it establishes a legitimate afterlife and at least one supernatural entity. This creates an interesting discussion around the themes explored in the game, especially suicide. The afterlife space presented in the game is more of a limbo space belonging to the Queen of Maggots. It is never made entirely clear who the Queen of Maggots is. She is old and claims to go by many names. Her role and motives are left up to interpretation. We don't know why she tasks Susan with hunting down the Parasites, though there are lines later in the game that might provide some hints.
Towards the end of the game the Queen of Maggots suggests she is a part of Susan. This implies she may be a personification of something that exists in everyone. Remember this bit because I'll bring it back up when I discuss suicide in the game. This also explains the Queen of Maggots' mission to kill the Parasites. The Parasites are humans who could be said to have no souls. They kill and torture with no empathy. They often draw people in with a false sense of security. The Queen of Maggots wants them dead because in a way they feed off of that part the Queen of Maggots represents.
The player is greeted with the full weight of Susan's depression from the very beginning. As she experiences what she thinks are her final moments she laments that all she has are the stray cats she has cared for. But they will understand. They always have. When she finds herself in the realm of the Queen of Maggots she can only express weariness. She just wanted it to be over but the Queen of Maggots pushes her back to the land of the living. The Cat Lady is in part a journey of acceptance.
The game for the most part makes no attempts to provide a cure for Susan's depression. It isn't something that can cured. It can be treated. It can be coped with. A wheezing beast living in your mind. Some days you can sit peacefully with it in an uneasy alliance and other days it runs rampant taking away the energy you were saving to deal with anything but it. The Queen of Maggots promises happiness at the beginning of the game. At first this seems like a promise for a cure. But it isn't. Susan is in a better place by the end of the game but she isn't cured. She herself says that she will always have the "invisible illness" with her but her opening up and friendship with Mitzi has allowed her to better cope with it.
After Susan wakes up in the hospital she has to go through a session in order to assess the risk to herself. Here the player is allowed to choose some of Susan's history. The player is able to choose whether Susan grew up with both of her parents or neither. The player is able to choose what kind of parents they are. Later in the game Mitzi asks Susan what depression feels like. After Susan answers Mitzi describes what it feels like for her. Each describes their depression in a different way. There is an underlying message that regardless of circumstances depression can infest your mind and that each person's experience with it is different.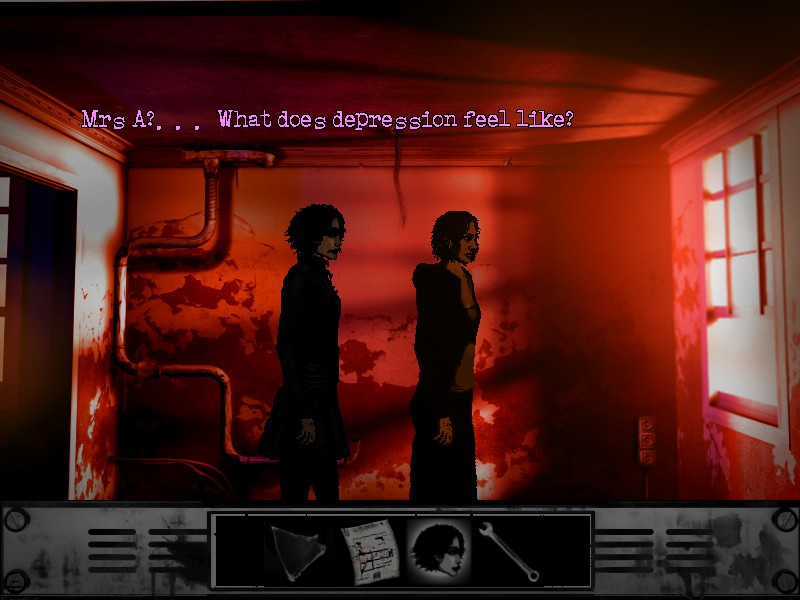 Your time at the hospital presents perspectives on how those who need help view treatment. Susan is pretty hostile towards drugs and therapy. The game doesn't delve deep into society's view of drug treatment for mental illness but Susan's own attitude does reflect a stigma people have of drug treatments. Admitting you need drugs is an admission of defeat. You weren't strong enough. There is also the unwanted side-effects that often come with drugs. The game at one point tries to portray the lethargy and skewed perceptions caused by drugs. And society doesn't try hard to dispel these unhealthy antagonistic attitudes towards drugs. When you're on the edge of a mental knife though those drugs can be a life saver. In the end Susan moves on without any drugs but this doesn't mean this is the right choice for everyone.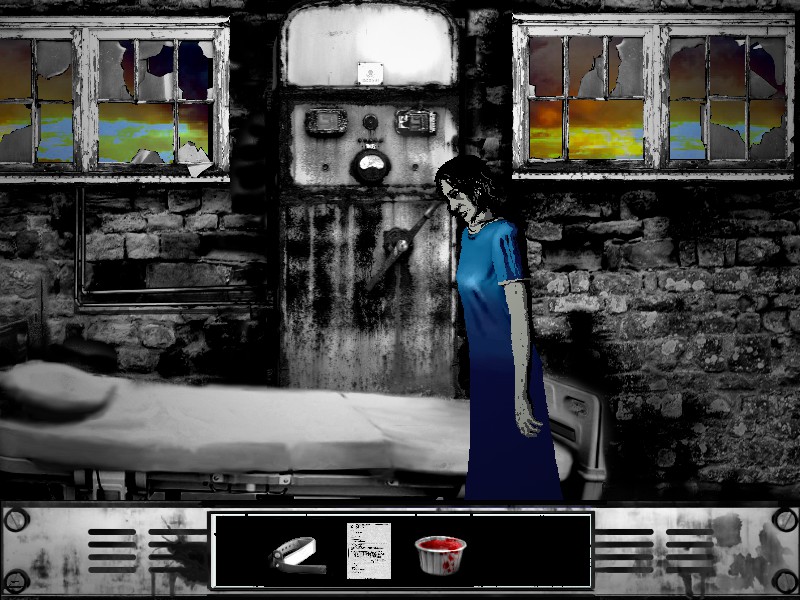 Returning home introduces an interesting mechanic for one chapter in the game. You are given two meters. A red one that fills up when something upsets Susan and a green one that fills up when something makes Susan happy. Neither cancels the other out. If the green meter fills up Susan can sleep peacefully, if the red one fills up she suffers a breakdown. Things that cheer Susan up are things like having coffee or a burger cooked just right. Things that can upset her are things like being startled in the dark or seeing unpaid bills. This conveys the fact that what may seem small to other people can make or break the day of someone suffering from depression.
The day after Susan gets home Mitzi enters her life. At first Susan is distrustful. But over the course of the game they open up to each other and form a friendship. Mitzi tells her story to Susan and over time Susan reciprocates. Susan tells Mitzi about her daughter and husband. Mitzi may not be a professional but she's the only person who Susan makes a connection with. When it comes to depression being able to open up and connect with someone is one of the most important things. Mitzi is able to help her in way no one else had due to that connection.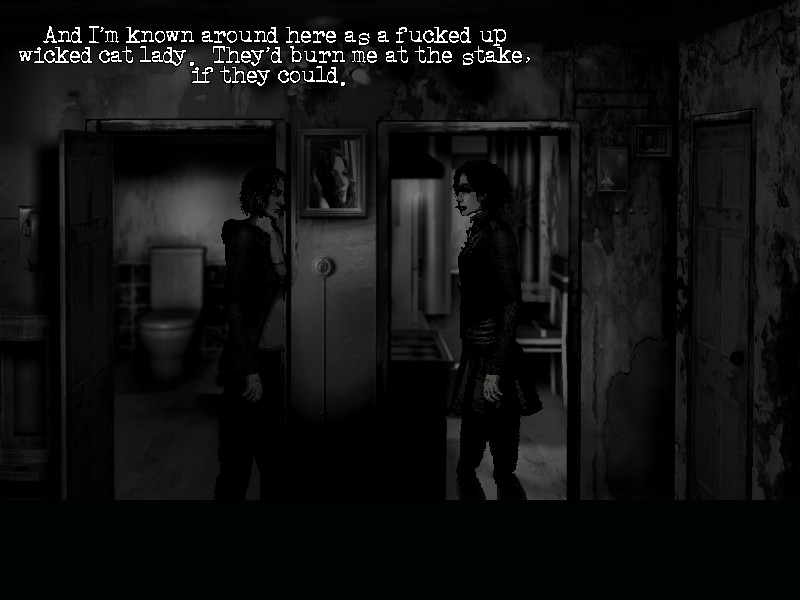 Regardless of which ending you get, in the final scene of the game Susan expresses how she has learned to cope with her depression through her friendship with Mitzi. Susan admits she will never be rid of her "invisible illness". Depression isn't something that can be cured. It can be managed or lessened through drugs, therapy, or other lifestyle choices. But the ghost of that melancholic beast will always hang over you waiting to get you when you least expect it. In two of the endings, where Mitzi dies, Susan is able to meet new people. She goes out with them every once and a while. She allows herself enough of life to not be completely boxed in and alone.
I can't think of too many games that deal with suicide as directly as The Cat Lady. It isn't a single plot point that just sets off the events of the game. It is a continual thread that appears again and again. Susan encounters a ghost that wants to commit suicide. Mitzi's boyfriend committed suicide. Susan commits suicide at least one more time, and possibly another after that. The final antagonist of the game, The Eye of Adam, is a man who encourages and helps people commit suicide online. The climax of the game is a choice between letting your friend commit suicide for revenge or convincing her to move on and living the rest of her days with Susan.
Susan's relationship with suicide mostly takes place in the first half of the game. The beginning of the game starts with her suicide. To her horror she finds herself in the realm of the Queen of Maggots, faced with the prospect of continuing to live. On replaying The Cat Lady I was caught off guard because the Queen of Maggots implies Susan will be punished for committing suicide. It was jarring in a game that seemed nonjudgmental of people who commit suicide. While the game explores the emotions around suicide it didn't seem to blame those who attempt or succeed in suicide.
Later dialogue though can be interpreted to mean Susan would be punished because she thought she ought to be punished. The Queen of Maggots is a part Susan. A part that understands her self-loathing. At the beginning of the game Susan believes she is worthless. Suicide just signifies another failure. One she should be punished for. This isn't an uncommon attitude. Many do feel a sense of guilt for even thinking about it. And again society doesn't exactly help. Several religious traditions have declared suicide as wrong. A crime against the body. One which can earn you an eternal punishment. Even from a secular viewpoint suicide is often viewed as somehow wrong. It's a struggle to change these attitudes. To convince others that trying to commit suicide isn't a moral crime. There is real suffering taking place. And that individual sees suicide as their only option.
The Eye of Adam is a unique antagonist that is hard to read. As a character he is inspired by real people online who encourage and provide ways to commit suicide. There are real forums out there that resemble those described in the game. Places where a pro-suicide message can be expressed. The Eye of Adam is a crippled man who can only communicate with the world through his eye movements. He encourages others to commit suicide, including Mitzi's boyfriend. He kills his father and tries to goad Mitzi, or Susan if the player lets Mitzi die in an earlier scene, into killing him. A final grand act. We don't actually learn much about The Eye of Adam. How his physical disabilities have affected his mental health or nuanced explorations of his motives for encouraging and helping other commit suicide. The player gets to choose how things end. You can let Mitzi shoot The Eye of Adam which will kill her also because of the oxygen tanks in the room. You can also talk Mitzi out of it and deprive The Eye of Adam his final wish. If Susan confronts The Eye of Adam alone, due to Mitzi's death earlier, she fulfills his wish and kills him.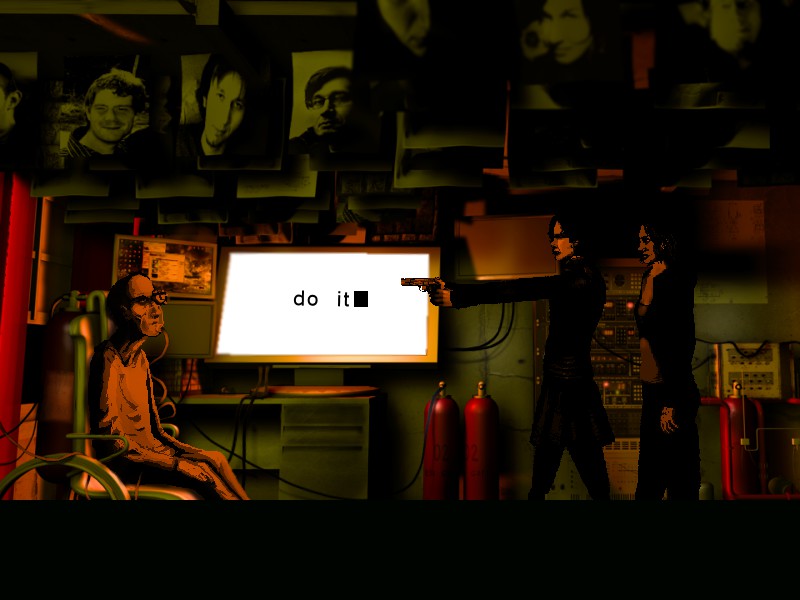 The Cat Lady presents several contexts for suicide. Susan's suicide at the beginning of the game is linked to her depression. An action she survives and comes to regret. Mitzi's boyfriend commits suicide. He can't bear to think about his life without Mitzi or deal with his own emotions around Mitzi's cancer. Mitzi is willing to commit suicide for revenge. She is going to die of cancer anyway so why not die killing the person who convinced her love to kill himself? The Eye of Adam is willing to commit suicide as a grand last gesture.
The Cat Lady never endorses suicide but also never portrays those who are suicidal or commit suicide as inherently bad. While the game shows you the emotional reaction of those around you it never moves into blaming territory. It sincerely tries to portray what everyone goes through, those that try to commit suicide and those that care for them. Emotions can be complicated for those who survive their suicide attempt. Like many, Susan feels regret. She regrets making the attempt and in the end she's glad she survived. At the beginning of the game the Queen of Maggots tells Susan death fixes nothing. In the world of The Cat Lady the afterlife is real. Suffering doesn't end simply because you died. We don't have that guarantee in the real world. Suicide may end the suffering of the individual who commits it but it does leave emotional damage behind. Coming to embrace life through her relationship with Mitzi helped Susan. This isn't always easy. Embracing life is a bitch. And sadly some people are never going to be able to do it. While many are able to recover from their suicide attempts there are many who will go on to attempt again and again until they succeed. There are no clear or easy answers when it comes to suicide.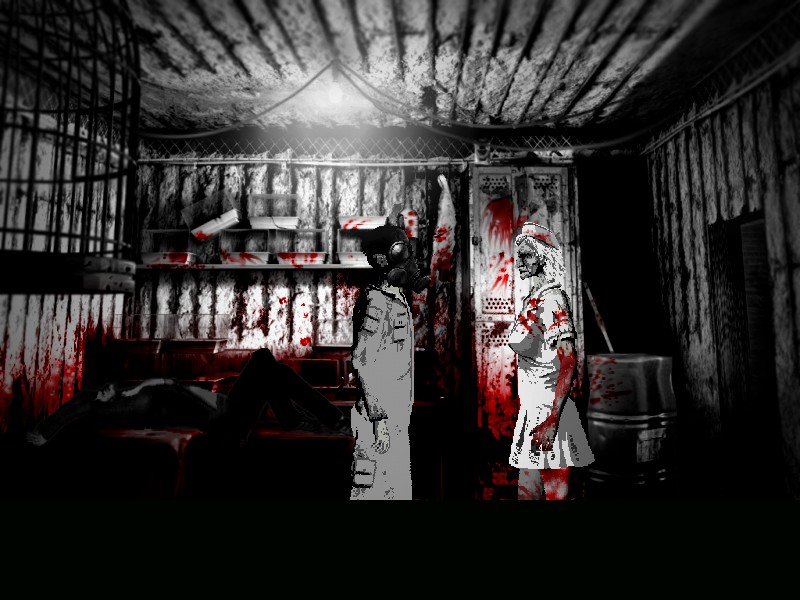 The Cat Lady is a horror game with fantastic and disturbing imagery. It has supernatural elements and its villains are some of the most demented individuals I have ever come across in a video game. Despite all of this the game is extremely well grounded. The fantastical elements help to enhance the exploration of themes such as suicide and depression, not distract from them. The Cat Lady is an example of game that can sincerely explore these issues without using them as a simple plot crutch. The game tries its best to express these experiences to the player. It is a game that presents depression and suicide without judging. A game that hopefully when finished has allowed the player to better understand these experiences.